Are you searching for ride on cars For 7 Year Olds?
Your kid is now 7 years old! How has time gone by so fast? It has snuck up on you! By now they have experienced a good amount of childhood. They know their likes and dislikes and their physical mobility is usually bursting at the seams!
What gross motor skills are most active right now? They are kicking a soccer ball with reasonable accuracy and fervor. They are able to walk backward heel-toe, on a balance beam. They can hang from a bar and dangle around for at least 10 seconds.
They can skip, hop on one foot, jump forward with both feet together and ride a bike without the use of training. The list of their physical capabilities can go on and on! In all they do, they tend to exhibit their energy and excitement to MOVE.
Please consider a cars for 6 year olds if your little one is slightly small for their age, or cars for 8 year olds if they are a little big for their age.
5 Incredible Ride On Cars For 7 Year Olds
A ride in car, might be the car to add to their fervency for life and fun! You might think that they are getting too big for a ride on, but let me tell you loudly "NOT SO". The ride on car industry has a model for all ages!
Here are the most popular ride on cars for 7 year olds: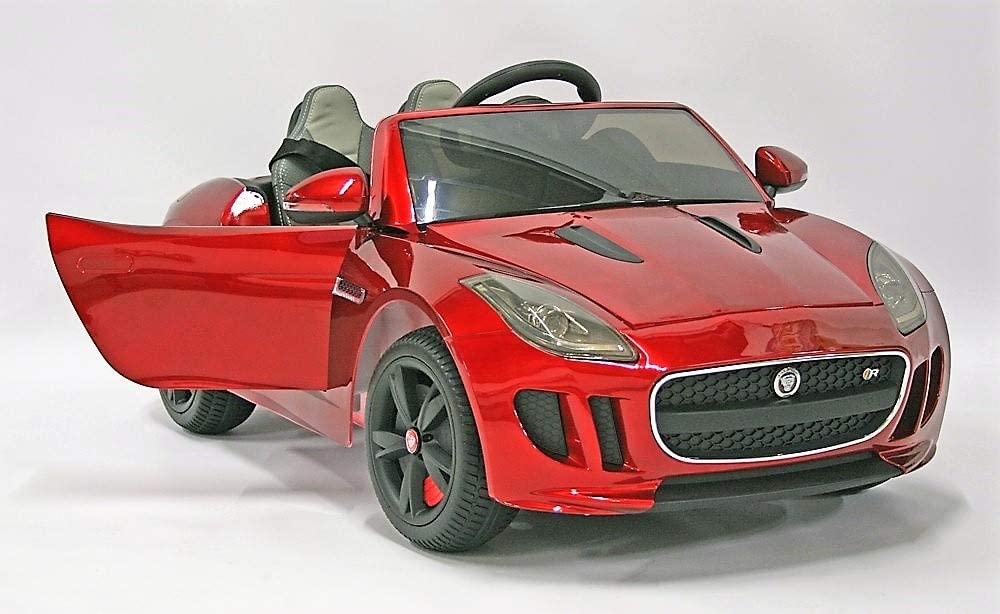 This ride on car has the Jaguar matched down to a "T". At this current age of your child, they have strong preferences for what they like and don't like! Around this age, children tend to want to mock what adults do or have. This ride on car, is the perfect way to primp them for the finer things in life.
Getting classy ride on cars for 7 year olds, could very well set them up to want a luxury car for their 16th birthday. Well, at least you have plenty of time to start saving for that now!
Pros
Parental Remote-Control Mode
Battery Operate Mode
When this car is fully charged, your child can drive it for a continuous playtime of 40 minutes.
This fancy ride comes with a comfortable seat and a safety belt.
This model is so real to life, that your child has a key. To start the car from the dashboard. It comes fully equipped with MP3 input, movable wing mirrors, horn, LED headlights, high/low-speed switch
Cons
It does take 8-10 hours to charge this bad boy, but if it is charged overnight
---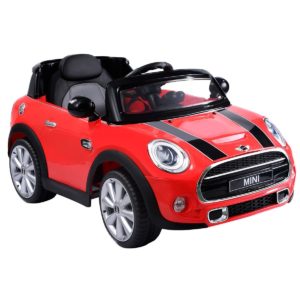 This little cutie car is so fun and so delightful! It is both and combination of cute and sophisticated and can easily be driven by either gender. It also reminds me of a little cubby, where you kid is tucked away securely, in this option. Makes you and your child feel more secure.
This ride on car is not just a mock of the real deal "Mini Cooper", it is an actual licensed BMW Mini Cooper. So, your child would be getting the top of the line, real deal model!
Pros
There are two fun modes that this model can be used under. The first mode is the Parental Remote You are able to control the car to be in on the ride with your child! Now, there is the Battery Operate Mode. This allows your big kid to operate the car by himself/herself by the electric foot pedal and steering wheel.
This Mini Cooper can run a good amount of time. When this car is fully charged, your kiddo can ride it for 40 minutes.
Saftey is always key. Just like the adult version of the Mini Cooper, you will find a quality and secure safety belt to ensure a fun and safe ride!
Cons
I would say the only CON of this cool car, is that it is only a one-seater
---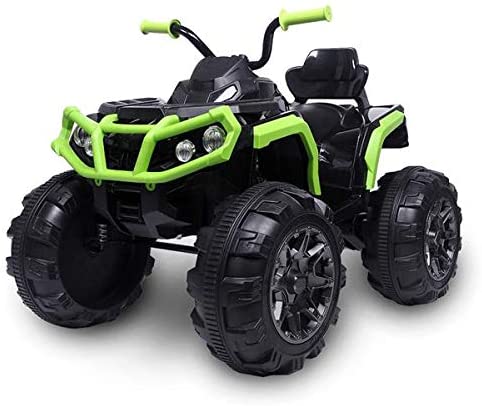 Want to really make your kid feel like a big kid?! Especially, for those kids who are hardcore about being outdoors and tearing it up!
This is such a cool option for a slightly rugged and daring child!
Pros
It is powered by high-performance 12V battery, driven by four solid wheels, designed with a comfortable seat. This is an attractive option for your child to experiment across all different types of terrains with ease.
Your daring cutie can choose from High/ Low Speeds, that can go up to 7km/h max. The also reverses at the same sustainable speed.
A rough and rugged ride, such as this one is not complete without some solid music option. Thus, it comes with an auxiliary input that is available to connect your Phone, iPod, or other digital audio players to play favorable music for your children. The volume is also adjustable by a volume knob
Cons
This particular model, needs a little more assembly than the others. So, if you don't feel extremely techy this is just a good heads up, that a Youtube video might be a good tutorial.
---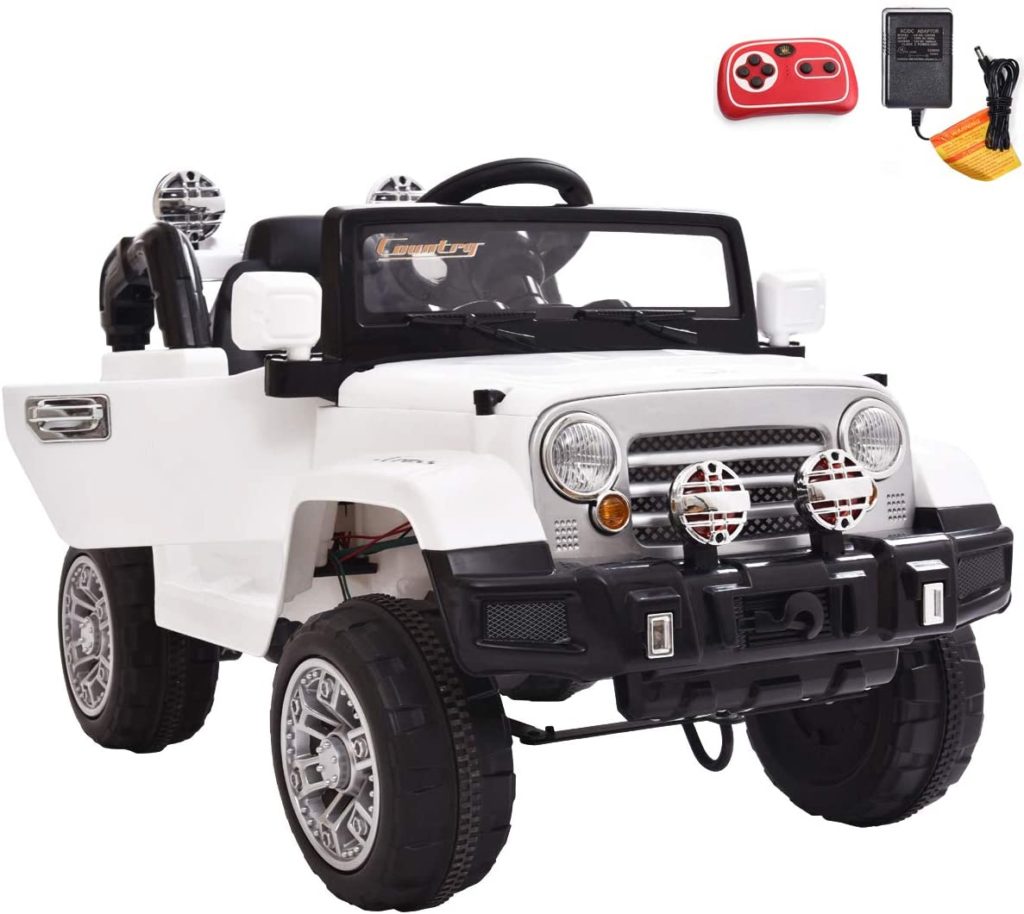 Look at this cute little thang! I love this ride on car, because it is has the perfect elements for both genders! It has some class and rugged aspects, with a color that is gender neutral.
This can be driven through the "rough" terrains of your backyard or simple drive in the neighborhood, impressing all the children.
Pros
This classic and rugged ride, can be driven in two modes. The Parental Remote-Control Mode, which gives you the option of controlling the speeds and direction of the car. The other option is the Battery Operate Mode. Your child has the full control to operate this truck by himself/herself by electric foot pedal and steering wheel.
The LED lights on this car is FIRE! Never a worry about them riding as the sunset. These lights are so bright, your little one won't miss anything in the dark!
Get this classic act all charged up! Why? When this truck is fully charged, your big kid can play drive it for 60 minutes. A full hour of rambunctious fun! Who can resist that action?
Cons
This model is just as basic and solid as they come.
---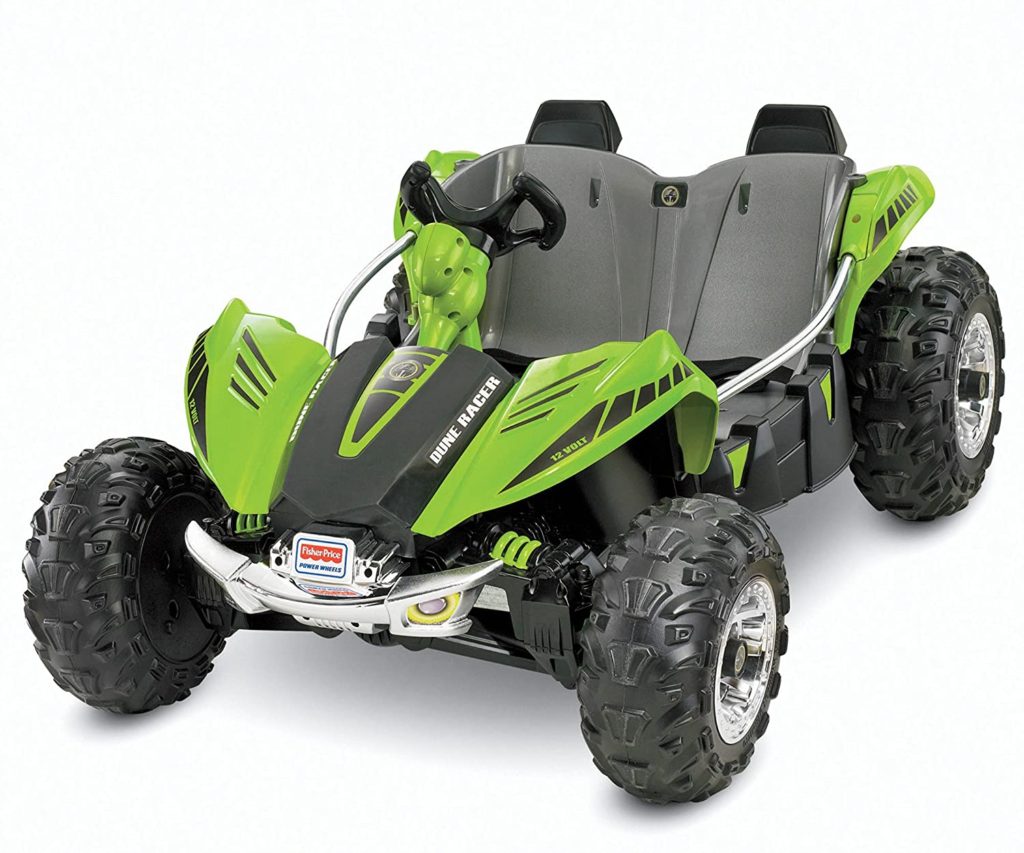 This low-rider truck, jeep is a car your child will surely remember. Its has a combo of features and design elements that makes it hardcore, stylish and sporty!
The big supportive wheels on this ride, make it extra stable for fun and secure rides!
Pros
The large four-wheels give powerful and secure traction to run over most surfaces, while adding to the feel of driving a real Jeep. The 2.4GHz remote lets you adjust speed and steer/fully control the vehicle if the rider is not yet able too.
A ride in this model would never be fully complete without their choice of music. It comes fully equipped with an MP3/USB/tf/ port/ music volume control, that your child can easily control.
A feature your kiddo can be dazzled and beautiful with LED coloured lights, that keeps things around them well-lit if he/she decides to use it at night.
The 2.4GHz remote lets you adjust speed and steer/fully control the vehicle if your child is not yet able to.
There is an easy-to-control speed, that comes equipped with three-gear speed options. It also comes with a cool key start-up design which is convenient and fast. Since this ride on car is for the kid who doesn't "play" around (like that play-on-words?), the Five-point safety belt will ensure security while
Cons
This is a little bit more of a complex design and it's a two-seater. I think you know where I am getting with this. There is a bit more assembly with this model that is not really necessary for the other options. However, following the manual and referring a Youtube tutorial will make the assembly job smooth.
---
Conclusion
Without any special training, children can skip, hop on one foot, leap forward with both feet together, and ride a bike. Their athletic prowess is too long to list here! They frequently show their enthusiasm and passion for moving in all they undertake.
We hope this information was useful to you. We anticipate that you'll soon be able to select the amazing ride on cars for 7 year olds.