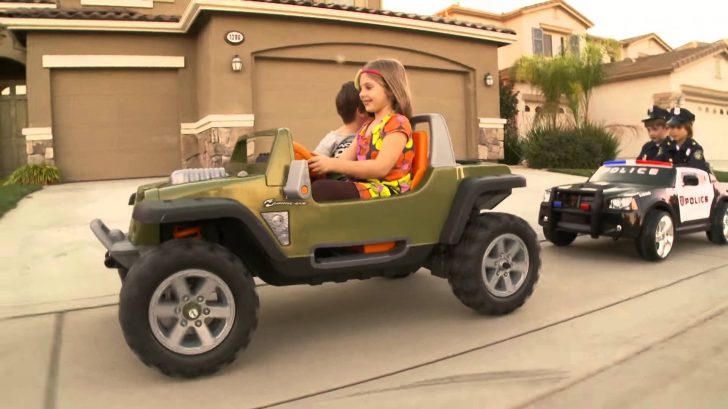 Searching for ride on cars for 6 year olds? Read this article to get a complete guide on the 6 perfect ride on cars that we have picked for your child.
So, your kid is six years old now! How time has flown. Although you still consider this precious one your baby, he/she is really morphing into a big kid now and they know it. At this age, their gross motor skills are on fire and it makes them feel like a "big kid". They are feeling more comfortable in their own skin and their physical activity should show it. By this age, children are able to:
-Move in time to the beat or rhythm of the music
-Throw and catch a small ball well
-Skip, gallop or dance
-Swim well
-Ride a two-wheeler bicycle
As you can see, they can do most things that older kids can do! With that being said, a ride on cars for 6 year olds is the perfect activity for your already well-rounded and rambunctious 6-year-old kid. Especially, by the end of the day, wouldn't you like to have one more tool up your sleeve, to help relieve the last bit of residual energy they have?
Keep in mind, if your child is a little big for their age, you might want to look into cars for 7 year olds. Conversely, if they are a little small for their age a car for 5 year olds might suit them better.
6 Amazing Ride On Cars For 6 Year Olds
So, go ahead and peruse these ideas we have curated, perfect for children that are 6 years of age. You will find diversity in all options at hand and an enjoyable read!
Here are the most popular ride on cars for 6 year olds: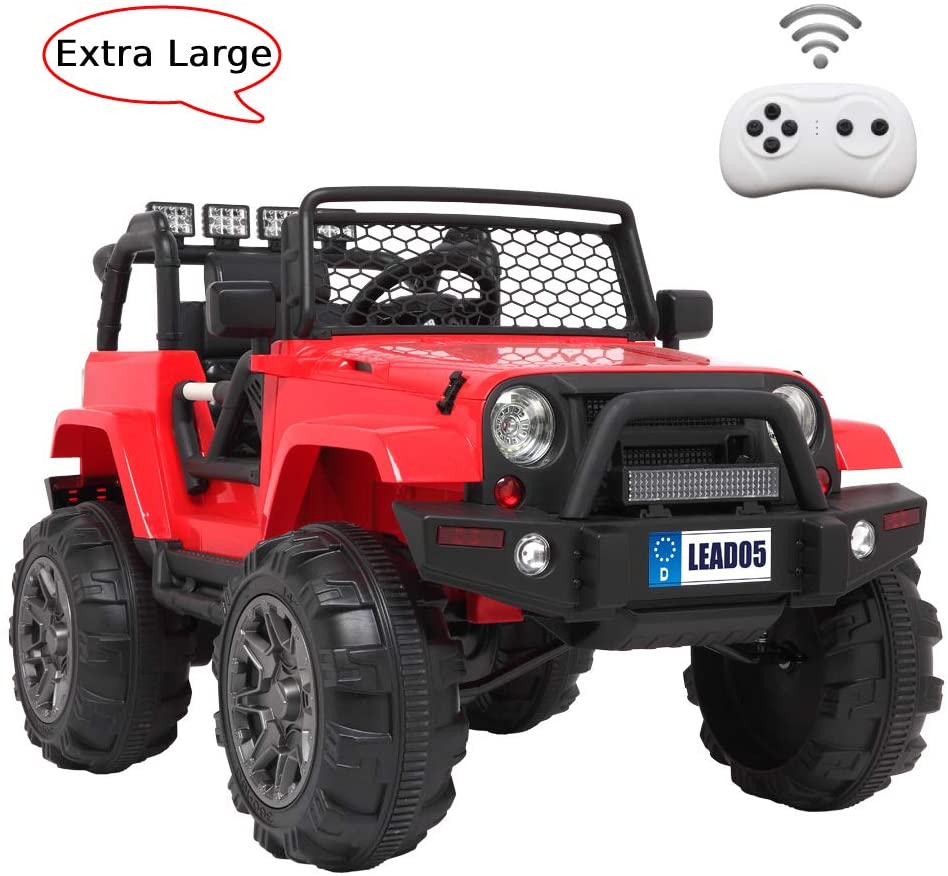 This is for the rough and rugged kid! This 12V ride on truck looks like it can take down the whole neighbourhood!
If not the whole neighbourhood, then maybe just the backyard.
Please do, get some grass within the treads of those wheels and conquer your backyard! This dynamic SUV can be driven manually by your daring kiddo or controlled by you with the handy parental remote, that comes with the model.
Pros
This full-bodied truck has an exciting, multi-color LED lights border around the top of the windshield, side mirrors & headlights for a dazzling appeal. Your child can play their favourite music through the provided AUX cord. Or they have the option of jamming to six different prerecorded songs for an enjoyable ride! This ride-on car option comes complete with real engine sounds, a horn, a seat belt and two varying speeds (low and high)
Cons
This is a bulkier design, so you may have to plan to make room for it. Other than that, you're good to go!
---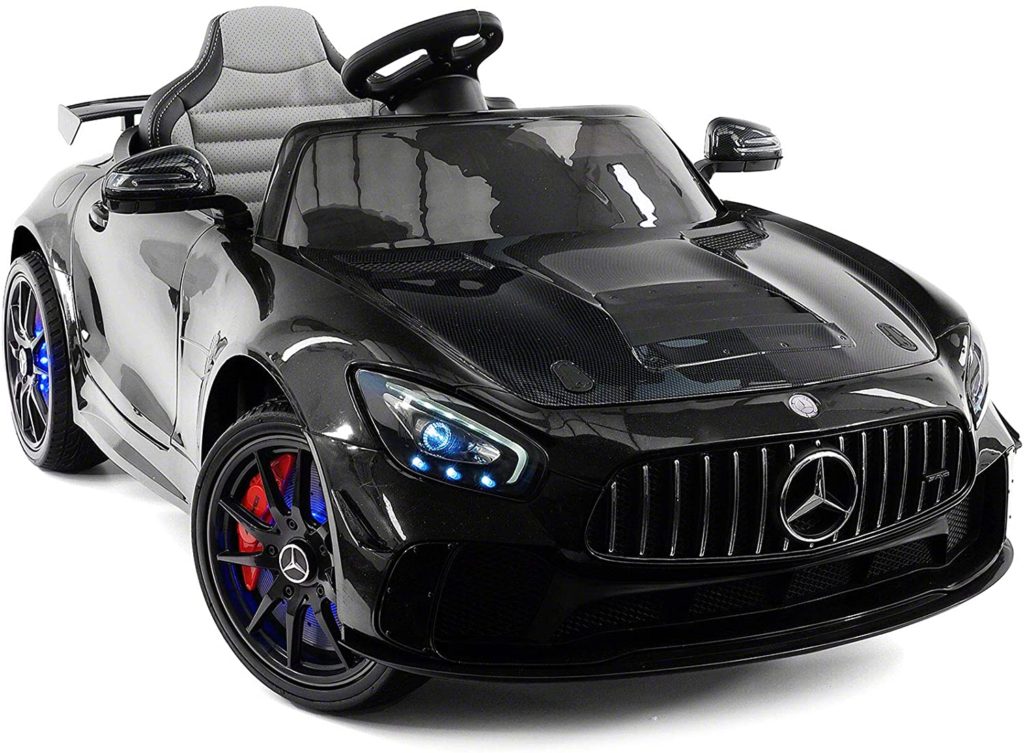 This sporty thing has got our attention, what about yours? This clever little one-seater 12v ride on RC car might just influence your child into having a sophisticated taste!
At 6 years of age, the children start to develop preferences and become clearer to themselves.
As you take note of what they decide to choose, you can tell a lot about their developing personal taste. So, if your kiddo decides on this style of ride on car, they must be the sophisticated type.
Pros
This ride on the car model, features (2) 12V Motors for two-speed controls, high and low. Also, it can be driven by your child, via the steering wheel and the foot pedal accelerator. Or, if you would like to join in the fun by using the remote to add some spontaneity to the ride. The cool little features of working headlights, horn, seat belt, forward/reverse motion & steering wheel controls are wonderful pros to this model. This car has an FM radio and MP3 connection to allow the savvy driver to play their favourite songs through the built-in speaker.
Cons
This model does not have the parent remote control. With this car, your child has full control while you do not have the ability to limit things like speed.
---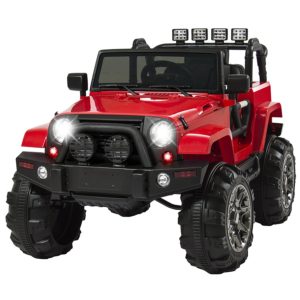 Summer is literally around the corner! This ride fits in with summer and the off-roading type of families!
Though it is not recommended to take this off-roading for real, the kids might enjoy pretending in the backyard or at the park.
It's just an overall really fun ride!
Pros
14″ traction wheels are equipped with a spring suspension system for a safe and yet very realistic ride! This 3-speed spring suspension truck features a non-toxic plastic body, an adjustable seatbelt, a gear shift, magnetic doors, and LED lights.
If your child is a little speed demon, then they will LOVE the 3-speed options: 12V motor features high, medium, and low speeds. This model can potentially be driven up to 8 years of age.
Cons
We would say that the only down-side to this ride is that it is a one-seater only.
---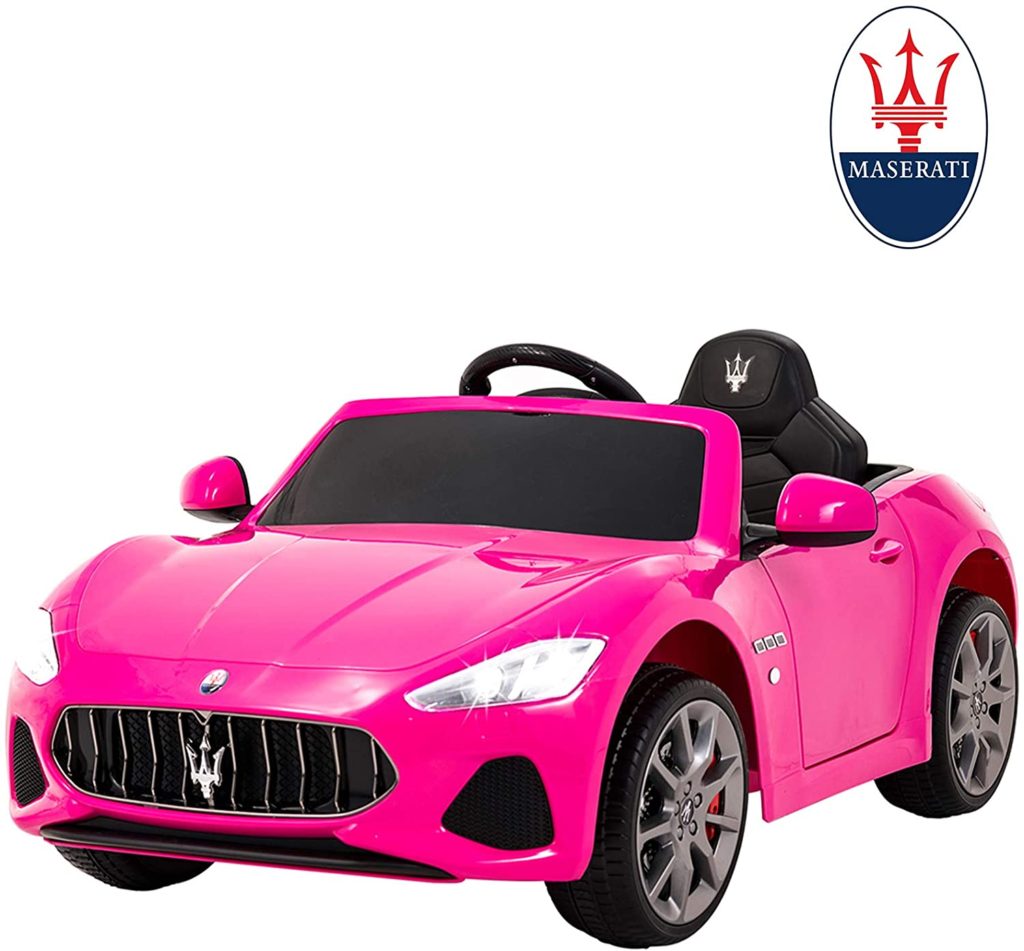 This fiery little pink car is just one of those toys a child would never forget about.
Especially, if your child has a little edge of "diva", you can bet this ride on car will be remembered as a favourite childhood toy, right into your adult years.
Pros
This high-end stylish ride comes with integrated gear switches and LED lights, which make driving this sports car feel like the real thing. In addition, your child will be rolling with real engine sounds, a realistic horn, a safety belt, and two varying speeds (high and low). A true ride in this pink 12v ride on RC car is not complete without playing music through the provided AUX cord. Otherwise, your pretty young thing can jam to a variety of preset songs for an enjoyable ride. When fully charged, this can be driven for an hour to two.
Cons
There is really only one CON. It takes around 8-10 hours to charge this ride on car. Pro tip – charging it over night is a perfect time to get it ready for the following days.
---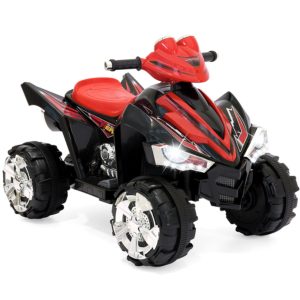 VROOM, VROOM, VROOM this is for the kids that like to play hard and feel truly like "Big Kids".
In fact, if your child seems to have a horsepower of his or her own, this is the ride on the car of choice.
This ride on ATV goes up to 2 MPH. So, not too fast but definitely not too slow.
Pros
Safety is the first call of duty with this ride. It is an ASTM-certified ride-on composed of a durable red plastic body with exciting decals for a compelling riding experience. It comes with a powerful and durable 12V rechargeable battery and charger. The lighting with this model is truly excellent, carrying built-in bright, LED headlights which can be turned on by simply pushing a button.
Cons
This CON is rather subjective! Other ride on cars are closed in while this one is not. So, sometime parents may feel a little nervous about this. However, this ride is safe, secure and stable!
---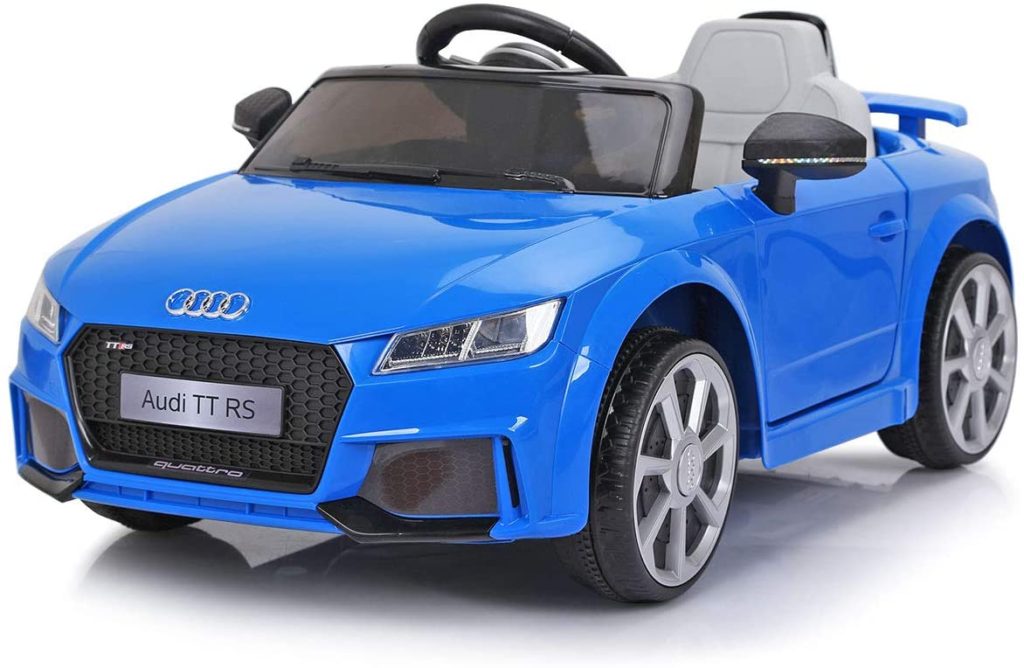 The style and muted sheen on this ride on car are slick and trendy!
Your child will be super stoked about this little Audi TT 12V ride-on. There are two types of ways to enjoy this ride!
Pros
There are two modes this can be used in! The Parental Remote-Control Mode is where You are able to control this car to partake in the joy and happiness of being together with your child. The Battery Operate Mode where your kiddo can operate this car by himself/herself using the electric foot pedal and steering wheel.
Cons
If you keep this Truck fully charged, your kid can continuously drive for 60 minutes! That is a whole lot of entertainment! The seating is very comfortable with safety belt, providing security.
---
Conclusion
However, the amazing battery-powered cars for kids are much more than just playthings. Owning a fun-sized automobile with kids can be an accessible and exciting way to impart lessons about road safety and sustainability, especially with the developments in automotive technology finding their way down to children's ride-on cars.
We hope you enjoyed reading this post on the finest ride on cars for 6 year olds and under. For more details, keep reading the other blog pages.