Are you looking for Go Karts For 8 Year Olds? Children have boundless energy and as they get older it's up to you as a parent to give them outdoor activities that are thrilling and fun but also give them adequate exercise. Go-karts are becoming one of the more popular ways to get your child away from a screen and outside.
There are various types of go karts for 8 year olds with different safety features, speeds, battery information, and more available in the market. To help you better understand what to look for at this age, we have put together this guide to explain the key features of the various types of go-karts.
Remember, your child may require something bigger or smaller depending on their build. You may want to choose a go kart for 9 year olds, or perhaps a smaller go kart for 7 year olds.
Types of Go Karts for 8 Year Olds
If you are new to the world of go karts, the first thing you have to realise is that there are three different types: pedal-powered, electric-powered, or gas-powered. They are designed to fit different age groups and different capabilities.
| | | | |
| --- | --- | --- | --- |
| Type | Number of seats available | Average Speeds | Safety features |
| Pedal powered | 1 | However fast a child can pedal | Durable frame, and good brakes |
| Electric powered | 1 or more | 8 mph to 15 mph (average 10 mph) | Durable frame, some parental speed controls, and good brakes |
| Gas powered | 2 or more | 20 mph or more | Durable frame, speed controls, off-road tires for better balance and stability |
Does age matter?
Age matters When selecting a go karts for 8 year olds. In fact, at this age, you have more versatility because your child has reached the time where electric-powered or pedal-powered are suitable.
| | |
| --- | --- |
| Age | Type of Go-Kart |
| 3-7 | Pedal powered |
| 8-11 | Electric-powered or Pedal powered |
What to look for in go karts for 8 year olds?
There are a few key features you might have to consider when you are searching for a go kart for this age group namely whether it can go off-road, and how many seats it has.
1. On-road or off-road go-karts
As you start to invest in a go-kart for an older child, having something with more versatility, something that can do off-road and on-road driving or something that is designed for off-road adventures is going to be more important. 
Consider where you plan to take the go-kart. Do you want the go-karts for off-road adventures with the whole family that include sharp turns, unpaved dirt roads, rocks, and slopes? Or do you want it for smooth rides around the neighbourhood where everything is paved and the biggest stone your child is likely to come into contact with is a tiny asphalt pebble!
This will determine how ruggedized you want the design to be and whether you want it to be the pedal-powered or the electric powered model. Bear in mind that the electric powered go karts are suitable for off-road situations but the battery life might be problematic. If you really want something for off-road situations, invest in a go-kart that has the longest battery life so that you can get the longest amount of fun before you have to stop for an entire day and recharge.
2. Number of seats
When you have an older child, it is very likely that another child eager to take the passenger seat which is why having multiple seats becomes important at this age.
As mentioned, there are models that have more than one seat and that might be something important for go karts for 8 year olds. In most go-karts, you can usually choose a two-seater option. This is great if you have more than one child because then you don't have to buy a separate go-kart, you can go for just one that allows the younger one to drive along in the passenger seat. 
But, if your children are both interested in driving then you have another set of considerations. if this is the case, you have to decide whether you want to invest in one go kart that is slightly more advanced for your younger child but suitable for both or all children to drive, or whether you want to invest in separate go-karts.
Conversely, you can just invest in 1 electric-powered go-kart with two seat minimum and both children can learn to drive it. This will help them to develop their coordination and of course, give them an opportunity to bond.
3. Batteries
If you are looking at electric go karts for 8 year olds, that means it has a battery.  It's powered by a battery that you have to recharge. The biggest downside here is that it can take a very long time to charge the battery, an average range is between 12 hours and twenty-four hours, longer when it's the first time you are charging. For every complete charge, you can generally enjoy between 30 minutes and 1 hour of drive time. 
Some models have just one 12-volt battery and others have two 12-volt batteries. This is only important in that the more batteries the go-kart has, the more speed options it has, and very likely the longer your child can drive the go-cart before it needs recharging.
2 Incredible Picks for Go Karts For 8 Year Olds
Now you better understand the different types of go-karts that are out there, what features you want to look for, and what elements might be most important to your decision. To help you make a more informed decision, we have compared some top products for this age group side by side so that you can evaluate the pros and cons of each.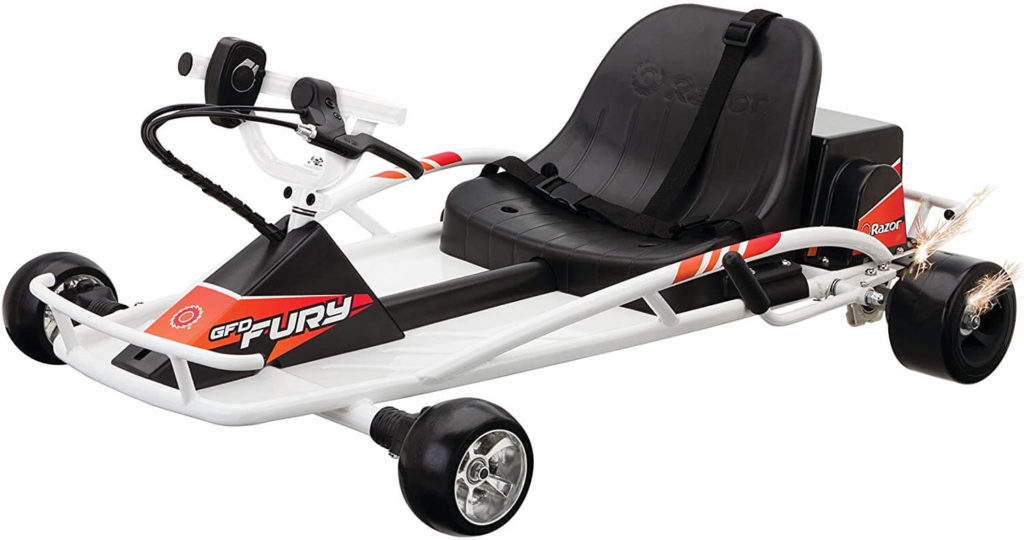 If you think your 8 year old is ready for an electric-powered go-kart, the Razor Force Drifter Kart is a great option. It is recommended for children who are eight years or older and it can support up to 140 lbs so your child can use it for a very long time.
It has multiple speeds but doesn't get any faster than 12 miles per hour so you don't have to worry about them going too far. It has the go-kart style frame of a Drifter and for each charge, it will run for 40 minutes.
It does have a chain-driven motor. Vehicle acceleration is controlled by a thumb trigger. The rear brake is hand-operated and easily within reach. The entire frame is a steel frame with solid rubber tires. There's also a spark bar and a shoulder strap and a seat strap so your child is secure to the go-kart.
It uses two 12-volt batteries and comes with a safety flag and a battery charger. It takes up to 12 hours to charge the battery between each use.
Pros
There are safety features like a seatbelt, flat and hand brake
It can support up to 140 lbs
It has a chain-driven motor with a rear hand brake, acceleration, and multiple speeds – up to 12 mph
Cons
It doesn't have a very supportive or tall seat
---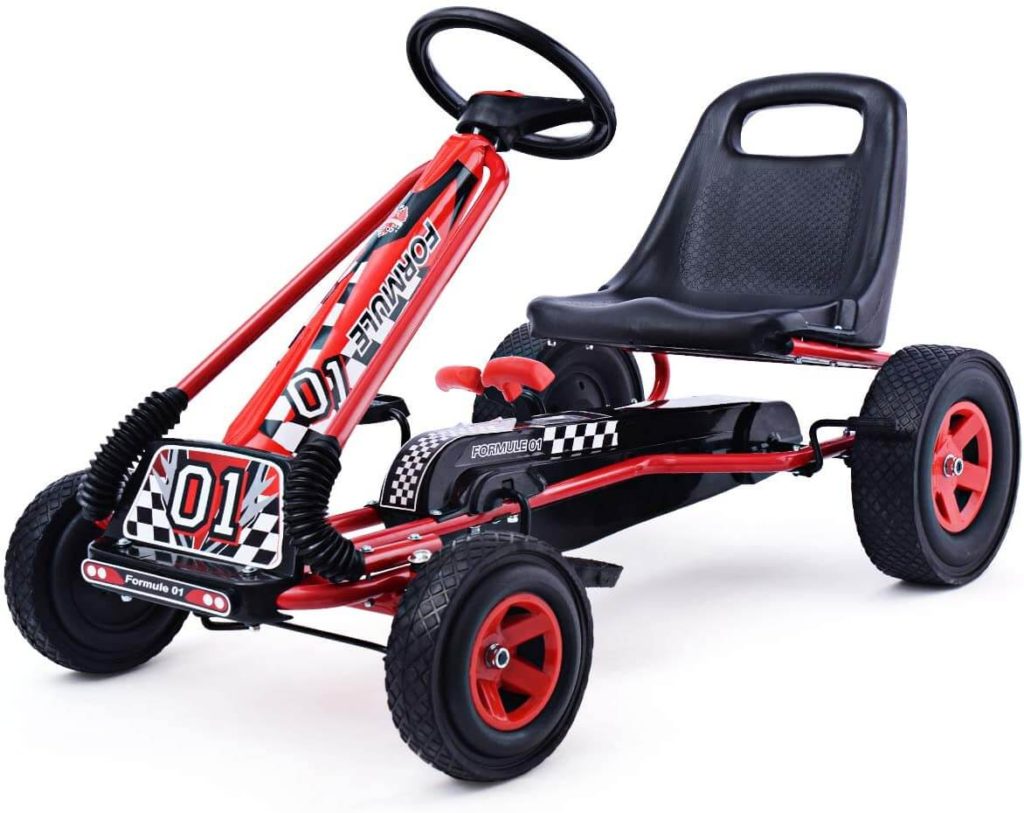 For real outdoor racing go kart for 8 year olds, this go-kart is the perfect solution. It is designed for children between the ages of 3 and 9. The components are made with odourless plastic so it won't smell when you open it. The frame is built with metal so it's very durable.
It weighs only 20 lb so it's lightweight enough to move around regularly. It can be used indoors or outdoors and it doesn't matter whether it's sunny or rainy, it will do just fine.
The seat is adjustable and the tires have an anti-slip strip running over the top of them. It has shock absorbers built into it which is what makes it suitable for off-road driving. Your child can drive around through bumpy terrain and the ergonomic seat will make it very comfortable.
Pros
The design is easy to assemble
It has odourless plastic frames
It is sturdy, at 20 pounds and can withstand indoor or outdoor use
Cons
The turning radius leaves something to be desired
While the seat is adjustable, it takes time to adjust it and isn't a fast process
---
Closing Thoughts on go karts for 8 years old
If you are new to the world of go karts for 8 year olds, the first thing you have to realize is that there are three different types: pedal-powered, electric-powered, or gas-powered. They are designed to fit different age groups and different capabilities. Hope you liked this article and soon you will figure out the amazing go karts for 8 year olds.