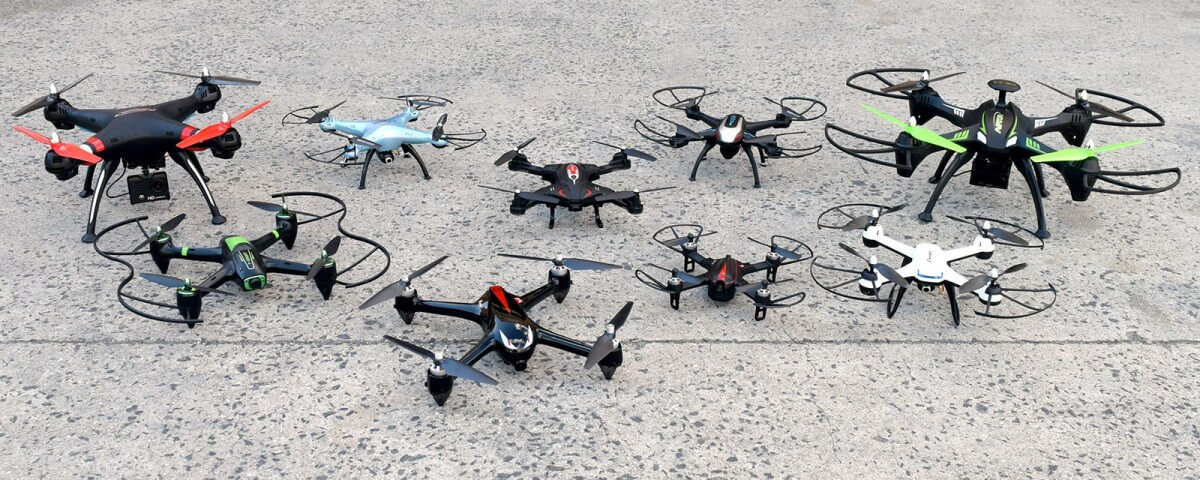 In a world where technology is seamlessly integrated into our lives, drones have captured the curiosity of kids. Drones designed for 6 year olds offer an exciting way to explore, get creative, and learn a bit about flying. This article is your guide to drones made especially for young aviators.
Drones are becoming popular for kids and grown-ups alike. From simple to super advanced, drones catch our attention and spark our creativity. Let's face it – a drone can instantly make you feel like a spy, no matter your age! These gadgets are a blast for kids with active imaginations. However, it's important that drones match their age. Some of the high-tech drones might be too complex for six-year-olds.
Parents might consider options for 5-year-olds or even for bigger or more advanced kids, like 7-year-olds or 8-year-olds. A complicated toy could take the joy out of playing. So, the best drone for this age group is one that can be flown right out of the box with minimal instructions.
Drones For 6 Year Olds Those Are Worth Buying
Here are three amazing and budget-friendly drones for a six-year-old:
While sporting enough cool features to entertain, these drones are simple enough for a six-year-old to fly them alone.
These can be flown indoors, so they're the perfect choice for those rainy days when busy, active little bodies must stay inside.
Let's take a closer look at the specs for each of these drones.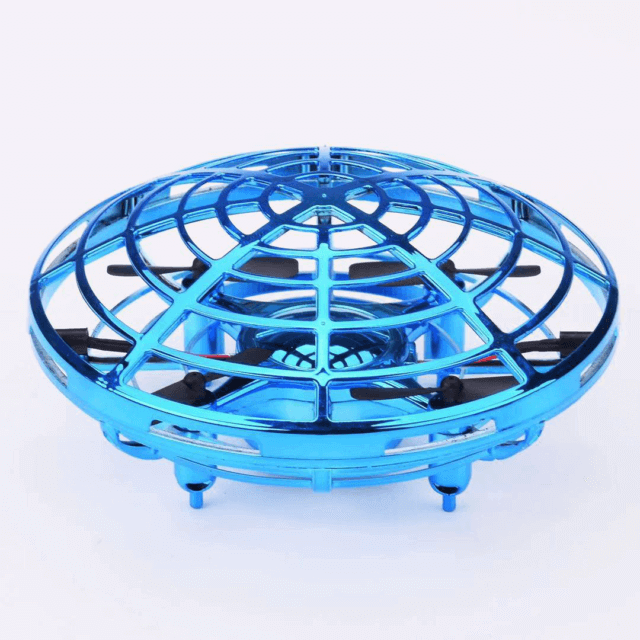 The Force 1 Scoot drone will intrigue kids with its UFO look. This is an ultra-simple drone that is perfect for introducing children to the world of drones.
Mode of Operation – No remote control is needed for this drone. This will reduce frustration for your child since they won't need to figure out a complex remote; they can just get straight to flying their drone to spy on the enemy camp.
It is launched by tossing it in the air.
Infrared sensors keep it flying while navigating around obstacles.
Its altitude is controlled by a hand or flat object underneath it.
Direction is guided by a hand on the opposite side of the intended direction of movement.
Cool Features – Flashing LED lights will make this a favourite nighttime activity. Turn off the lights and track the drone as it flies around the room.
The round webbed cage will protect your walls and little hands from contacting the flying mechanism.
This is an inside drone only. If flown outside, you could lose it because:
There's no top sensor to tell the drone to stop rising.
There's no remote to bring it back if it flies out of your reach.
Power Supply – The drone is powered by a rechargeable Lithium battery. It comes with a USB charger port and cable and needs only forty-five minutes to fully recharge.
The spoiler is that it flies for only five to eight minutes per charge and it needs a ten-minute rest between flights.
As a result, your child will spend a lot of time waiting for his drone to recharge instead of playing with it.
This can be super frustrating for the dedicated spy who needs to keep an eye on things behind enemy lines.
Materials – The shell is plastic, so it can crack easily. Try to avoid allowing the drone to experience hard falls or impact with other objects. The rotators are soft plastic, so anything inserted into the cage can damage them and halt the flight of the drone.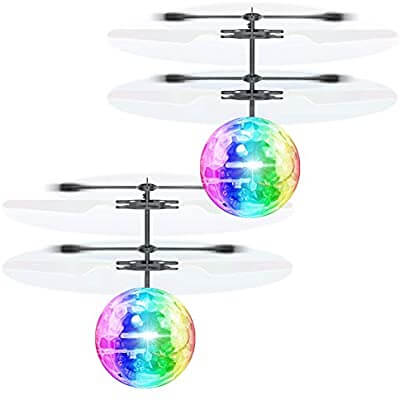 For the aspiring aviator, the RC Flying Ball has it all. And this twin pack brings you not one, but two super cool-looking balls that are sure to provide hours of fun.
Mode of Operation – The Flying Ball can be launched by tossing it into the air or by activating the take-off mode on the remote that comes with it.
The remote allows for a slower take-off that is not quite so overwhelming. The ball uses infrared sensors to navigate.
Highlights
Hover technology and inductive suspension allow you to control the direction of the ball by gestures.
Powerful sensors on the bottom of the ball keep it from colliding with other objects.
A gyroscope helps the ball balance itself.
If your child's hands get too close, the ball will move away in the opposite direction.
Cool Features – Let's take a look at some cool features of this flying ball that we have listed below:
Flashing LED lights make this ball an experience to fly in the dark. Add the second ball for a dizzying round of nocturnal fun.
The balls have a glass appearance which adds a new dimension to the lights' effect.
This ball can be flown outdoors or indoors. No need to worry about it going too high; the remote can bring it down safely and gently.
Power Supply – The ball is powered by a Lithium-ion battery that is rechargeable. The USB charger cord is included in the pack.
The ball must be fully charged before the first flight, but afterwards, it needs only half an hour's charge to fly for six to ten minutes.
Put one ball on a charge while the other is flying so you can swap them out for nonstop fun.
Materials – The drone is made of strong ABS materials that are shatter-resistant. The rotator blades are flexible which prevents them from causing or receiving much damage.
The core of the ball is strong and resistant to damage from falls. Still, it is a good idea to avoid sudden drops whenever possible.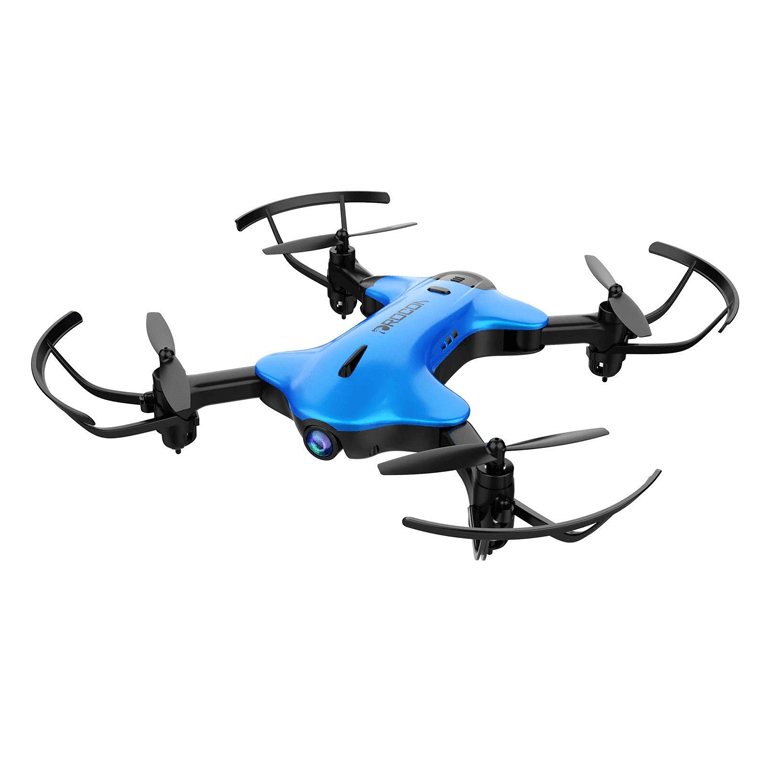 The DROCON Mini is the most sophisticated of the drones we are considering. This bug-like drone is sure to keep your six-year-old entertained for hours.
If your kid is tech-savvy, this is the drone for him.
Mode of Operation – This model is fully remote-operable. The handheld controller allows you to launch the drone with the push of a button.
Altitude hold/lock lets you fly the drone without constantly needing to adjust altitude
Flies in any direction upon command from the controller
Runs at three speeds: Low, Medium, and High
Hovers in mid-air
Returns to you by pressing the return key
Can fly up to 40 meters
Cool Features – The DROCON Mini can do flips! With just the touch of a button on the controller, the drone can roll:
Forward
Backwards
Left
Right
360*
The drone also features a bright searchlight for nighttime flights. This drone is great for flying both outside and indoors.
The quick response time encourages indoor flights while the headless mode and searchlight beg to be taken outdoors.
Power Supply – The controller is powered by two triple-A batteries. These are not rechargeable, so you'll need a sizeable stash on hand.
The drone itself runs on one rechargeable Lithium battery. The USB charging cable comes with it and a maximum sixty-minute charge is all it needs to fly for around six to eight minutes.
Materials – The DROCON Mini is made of solid materials that can withstand a bump or two. The plastic propellers are shielded by four plastic guardrails. This keeps the propellers from being broken or falling off in the event the drone collides with something.
The core of the drone is made of hard plastic and is sturdy enough to withstand the normal wear and tear of use. With proper handling, this drone can provide thousands of hours of fun.
---
Guidelines To Choose Good Drones For 6 Year Olds
What makes a drone "good" for a six-year-old? Primarily, there are three things you should look for when purchasing a drone for your six-year-old:
User-friendliness
The WOW factor
Looks
These guidelines can help you choose a drone that will provide your child with the most enjoyment for his level of skill.
1. User Friendliness – While kids these days are more tech-savvy than ever before, still not every child is born a computer whiz. If a toy's operation is too complicated or requires too much concentration, it will not be a fun toy for a six-year-old. Children of this age just want to get the most fun out of the playtime they have. They don't want to spend precious time trying to figure out an overly complex machine.
For a six-year-old, the perfect drone will be complex enough to intrigue them, but simple enough that they can operate it without frustration. It also needs to be on a skill level that allows independent operations. The child needs to be able to operate the toy without adult assistance.
2. The WOW Factor – Six-year-olds don't really care about a drone that takes pictures. It might be captivating for the first time or two, but when they realize the pictures and video are poor quality, they will lose interest.
What will keep them engaged, is the incredible and crazy things a drone can do like:
Flips
Spins
Flying upside down
3. Looks – It is of most importance to a six-year-old that the drone is the epitome of "cool". Bright colours and unusual designs will go a long way toward convincing them that they have the coolest drone on the block. Flashing LED lights will also impress.
So, when buying a drone for your six-year-old, go for wild and exotic. Your reward will be the hours of fun and miles of smiles he gets from his toy.
Concluding Drones for 6 Year Kids
And that's a wrap on drones for 6 year olds! We hope this article has been as entertaining as it has been informative.

Now, if you're still on the fence about getting a drone for your little one, let us reassure you – the joy and wonder on their face as they pilot their own flying machine is truly priceless.

Of course, you'll want to make sure you choose a drone that's safe and easy to use. That's why we've put together a list of some of the best options out there, with features that are perfect for young pilots.

And hey, who knows? Maybe you'll end up wanting to join in on the fun too. After all, age is just a number when it comes to the thrill of flying a drone.

So go ahead, take the plunge, and let your little one's imagination soar to new heights with their very own drone!