Electric Bikes for 5 Year Olds blend cycling joy with electric power's thrill, offering secure, exhilarating rides. This guide explores electric bikes for 5-year-olds, covering benefits, features, and expert insights.
Imagine A sunny day, your eager youngster yearning for sidewalk adventures. But the tricycle falls short. Fear not, electric bikes for 5-year-olds are the answer!
Join us on a journey through the world of pint-sized electric bikes, designed to turn your child into a two-wheeled prodigy. Pedal-free power, zippy acceleration, and enviable coolness await.
In this piece, we'll discuss safety, age-appropriate designs, and the latest models for stylish cruising. So, embark as we explore electric bikes for 5-year-olds – interactive, enlightening, and fun!
Electric Bikes for 5 Year Olds: 5 Perfect Picks
Electric Bikes for 5-year-olds are specially designed to offer children a unique riding experience. These bikes come with features that cater to the needs of young riders, ensuring both entertainment and safety.
We have put together a list of five electric bikes suitable for five-year-olds. These bikes will go slowly enough that they can learn how to steer without needing lightning-fast reflexes. Your child can have loads of fun on these bikes while remaining safe from injury. We will examine what each bike has to offer your child and any drawbacks that may exist.
If your child is too small or too big for their age, you may want to check out ride-on cars for 4-year-olds or 6-year-olds.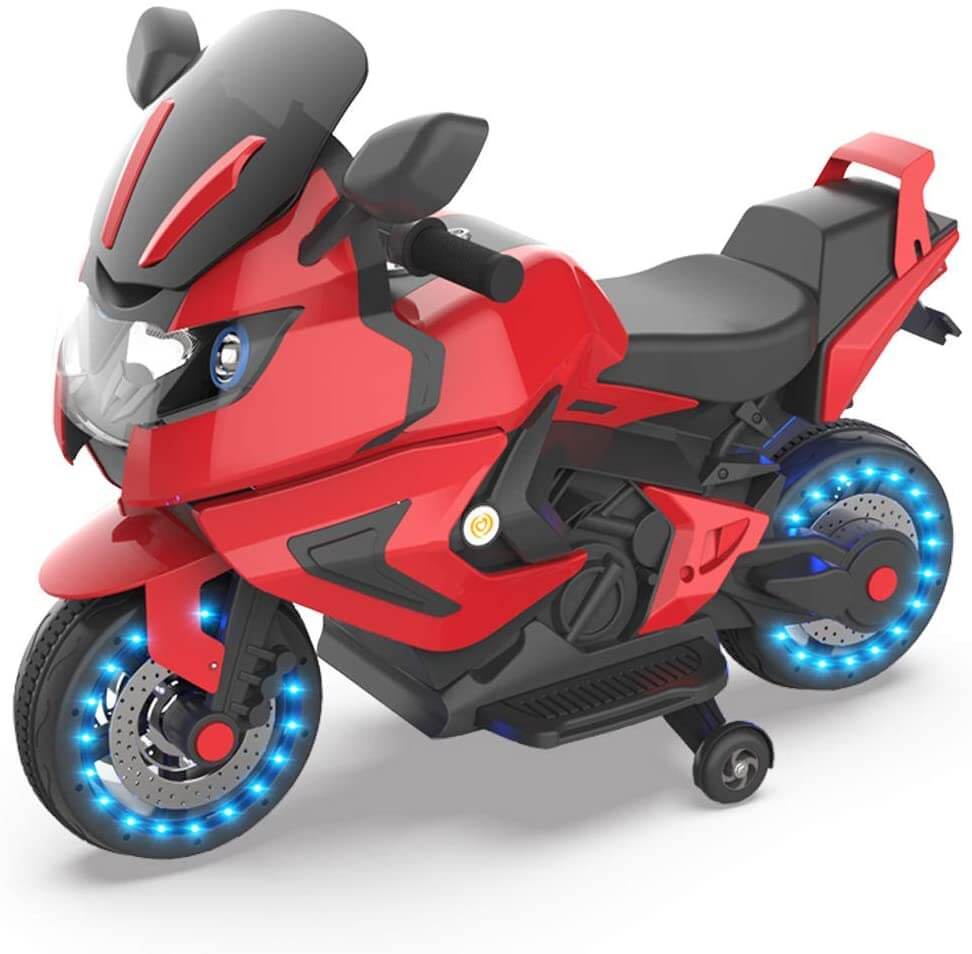 The Hoverhearts kids electric motorcycle will let your five-year-old ride in style. The speed is slow enough to be safe for a little one just gaining his wheels.
The training wheels will prevent injury from falls while your child learns to balance himself on the machine. These can be removed later when he has discovered to keep the bike upright.
The great lights on the wheel rims will make him feel like a NASCAR pro. Along with the headlights, these will keep him visible when riding in the twilight hours.
The realistic sounds of a revving engine will thrill and amaze him. Small enough to ride inside; tough enough to ride outside. The 6-volt battery cannot be expected to provide eternal power, but it is adequate for the size of the bike.
The one complaint we have about this bike is that there is no battery life indicator. You can't tell how much battery you have left. It also has no charge indicator, so it's guesswork to know when the battery is fully charged or charging at all. With proper care, the battery should last two to three months before being replaced.
Of course, this will depend on how much the machine is used. It could last longer if it is not ridden constantly or die quicker if it undergoes heavy usage. For less than $150, it is a good toy for your five-year-old's first electric bike.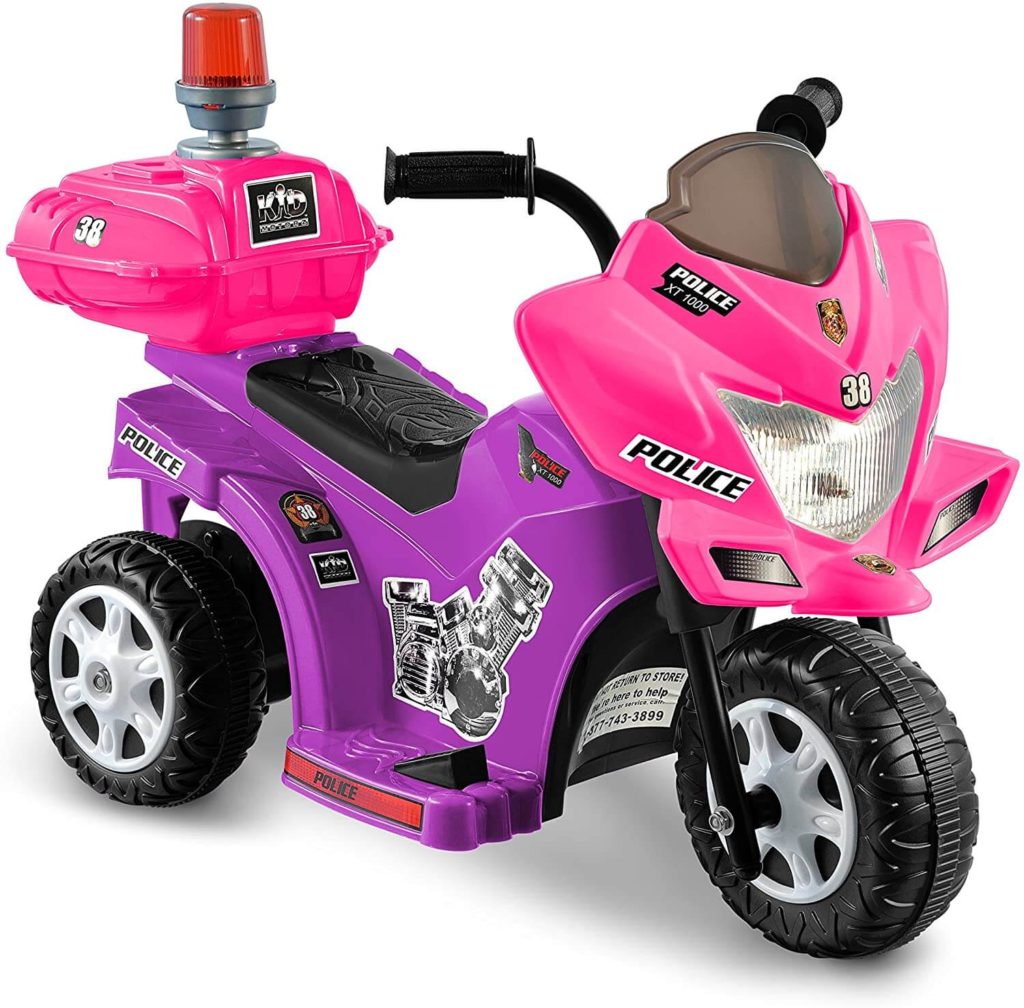 Available in colors for boys and girls, the Lil Patrol electric bike will make some aspiring police officers very happy.
This bike will run for approximately one hour on a full charge, so your little cop will have plenty of time to chase down the crooks before the battery runs out. The lights and sirens will make your five-year-old feel like the real deal as they whiz around the house to catch the bad guys.
This bike features forward and reverses gears with a top speed of just one mile per hour. The bike's storage case mounted on the back will allow the busy mini cop to keep all the essential accessories within easy reach.
The 6-volt battery will need ten to twelve hours to charge fully. There are no indicators to tell you how much battery life is left or when it is fully charged.
Charging is also a pain since the seat must be removed to access the battery. Then the battery must be disconnected from the bike and connected to the charger. Once charged, it must all be reconnected and the seat replaced. This constant hooking and unhooking have been known to break the plastic wire clips that keep the wires together.
Still, if you're willing to deal with the complicated process, your five-year-old will have a blast pretending to keep law and order.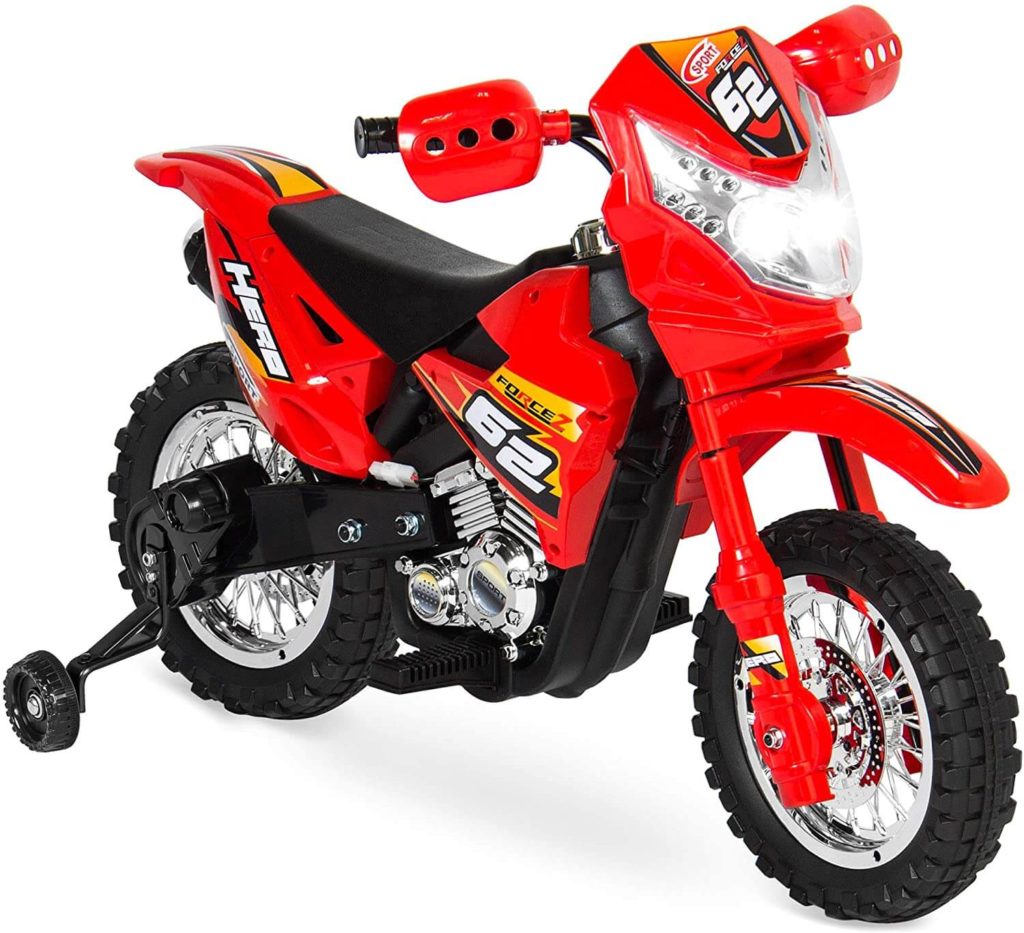 The Perfect Choice Ride-On Motorcycle looks like a dirt bike which is super cool for kids. The plastic wheels are treaded for a sporty look.
The 6-volt battery runs for about forty minutes on a full charge and needs to be charged for eight to twelve hours. A charger comes with the bike.
The headlights work well, and the bike has a range of realistic sounds, including:
Music plays from the speaker system to make your child feel grown-up like the big motorcyclist. There's even an auxiliary jack where they can plug in their audio device!
Speed tops out at two miles per hour, so your little daredevil won't get injured in a crash.
Training wheels helps them learn how to balance themselves and the machine. Training wheels can be removed when they are no longer needed.
The bright red color and realistic decals are especially appealing to kids. The sleek design and sturdy build will give your child many hours of playtime fun.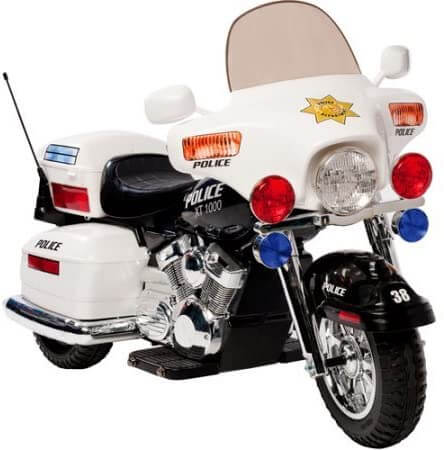 The Kids Motorz Police Motorcycle is an excellent bike for a five-year-old who aspires to be a police person.
Built like a street bike, it has all the bells and whistles to make it as close to the real thing as possible.
Riding at dusk is safer because of the working lights, including:
Headlight
Taillight
Hazard lights
Signal lights
A push button on the dash controls realistic sound effects.
The bike works at two speeds forwarding gear and one in reverse. The highest speed attainable is four miles per hour.
The two saddlebags help keep all the necessary personal items within easy reach. The rear storage compartment gives additional space to stash essential things like snacks.
This bike even has a CB antenna, just like the real police motorcycles, so your child can pretend to radio for backup.
The 12-volt battery provides plenty of cruising time before needing to be recharged. This bike will be a sure hit with your miniature civil servant.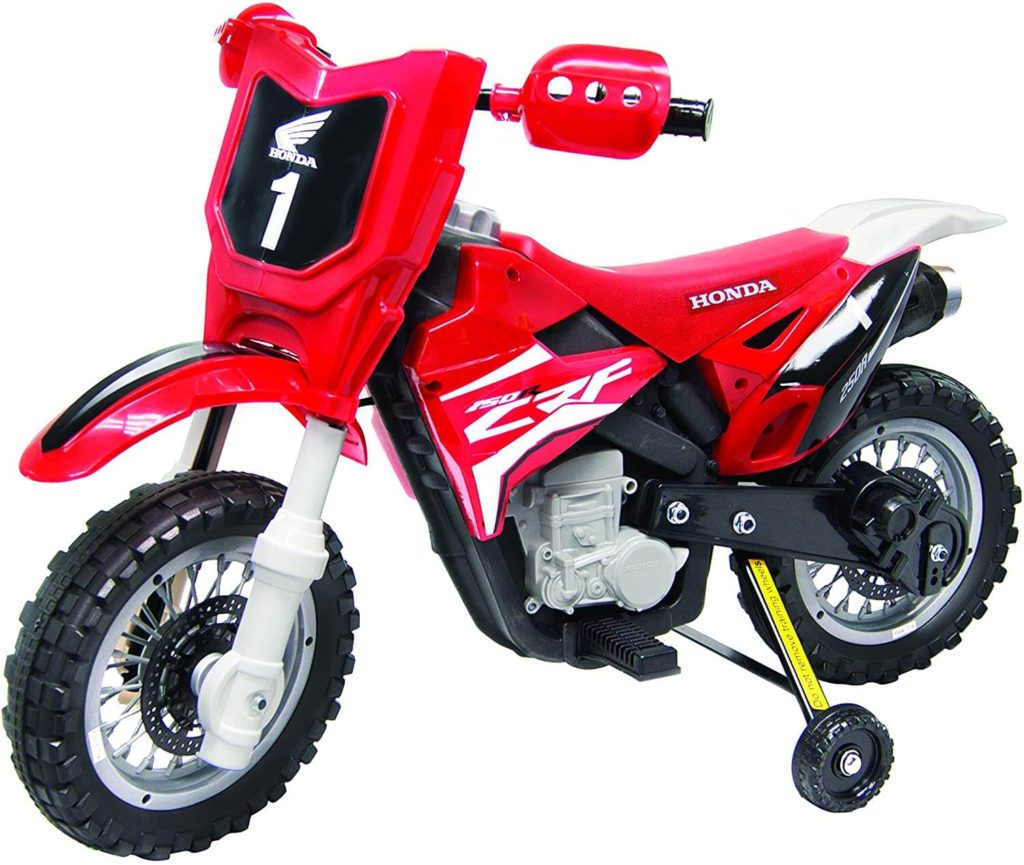 The Honda Dirt Bike is about as close to the real thing for a five-year-old.
This bike has the stylish decals of a real Honda bike. The build is sleek and sturdy, and the bright red color is sure to turn heads wherever your child goes.
Realistic engine sounds add to the fun and allow your little one to pretend he is competing for the dirt bike champion title.
Treaded "tires" and alloy-like "rims" complete this dirt bike's authentic look and feel.
The 6-volt battery gives it enough power to reach top speeds of 2 miles per hour, so it is safe enough for young children just learning to navigate.
Training wheels are included to help with learning to balance the bike.
The "accelerator" is a push button on the handlebar, so there is no danger of a pedal getting stuck and causing an accident or injury.
This bike works on hard surfaces because the 6-volt battery is not strong enough to power through heavy resistance areas like grass or sand.
Additional considerations:
Replacement Batteries: Unfortunately, batteries do not last forever. If your child enjoys riding his electric bike every day, the battery will stop recharging at some point. This doesn't have to mean the end of your child's fun. Replacement batteries are not that expensive and can be changed out with comparative ease.
We will list some recommended replacement batteries for your child's ride-on toys.
Benefits of Electric Bikes for 5 Year Olds
Confidence Boost: Riding an electric bike can boost a child's confidence as they navigate their surroundings independently.
Physical Activity: Pedaling promotes physical activity and healthy habits from a young age.
Outdoor Exploration: Electric bikes encourage children to explore the outdoors, fostering adventure and curiosity.
Motor Skills: Riding helps develop motor skills, balance, and coordination.
Concluding Electric Bikes for 5 Year Olds
Electric Bikes for 5-Year-Olds offer a fantastic way to introduce your child to cycling while prioritizing their safety. These bikes foster confidence, physical activity, and a love for outdoor exploration. With their sturdy construction and safety features, they are a win-win for parents and young adventurers alike.
Well, folks, that's all the information I have for you on electric bikes for 5-year-olds! I hope I've managed to spark some interest in this exciting new mode of transportation for your little ones.

Just imagine, your child zipping around the neighborhood with the wind in their hair and a big smile on their face. And hey, with the bonus of getting some exercise and reducing your carbon footprint, it's a win-win situation!

So why not give it a try? Who knows, maybe you'll end up having so much fun that you'll want to trade in your car for an electric bike too! Thanks for tuning in, and happy riding!