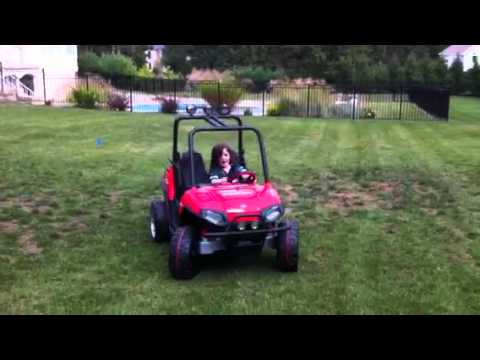 Looking for a ride on cars for 4 year olds? Electric cars are the perfect addition to their probably already overflowing toy collection! However, I can almost guarantee these cars will probably be their most favorite and memorable toy! It's all about creating memories, right?
You might be wondering if a car is a good idea for your child at this age. The answer resoundingly is "YES!" Yes, of course, it is. Why? Well, I am sure you have noticed that by now they are more independent and self-confident.
They want to do EVERYTHING by themselves and it's almost like an insult, to have you ask them if they need help.
All in all, they seem to be official big kids now, who crave more freedom and fun activities. Their motor skills seem to be bursting at the seams more and more, as they crave and seek out more physical activity.
Please keep in mind that if your child is big or small for their age, you might want to consider cars for 3 year olds or cars for 5 year olds.
5 Amazing Ride On Cars For 4 Year Olds
It hits every need they have to feel more independent, climb on things, try new things and get energy out in a safe, yet exciting way.
Here are our perfect ride on cars for 4 year olds: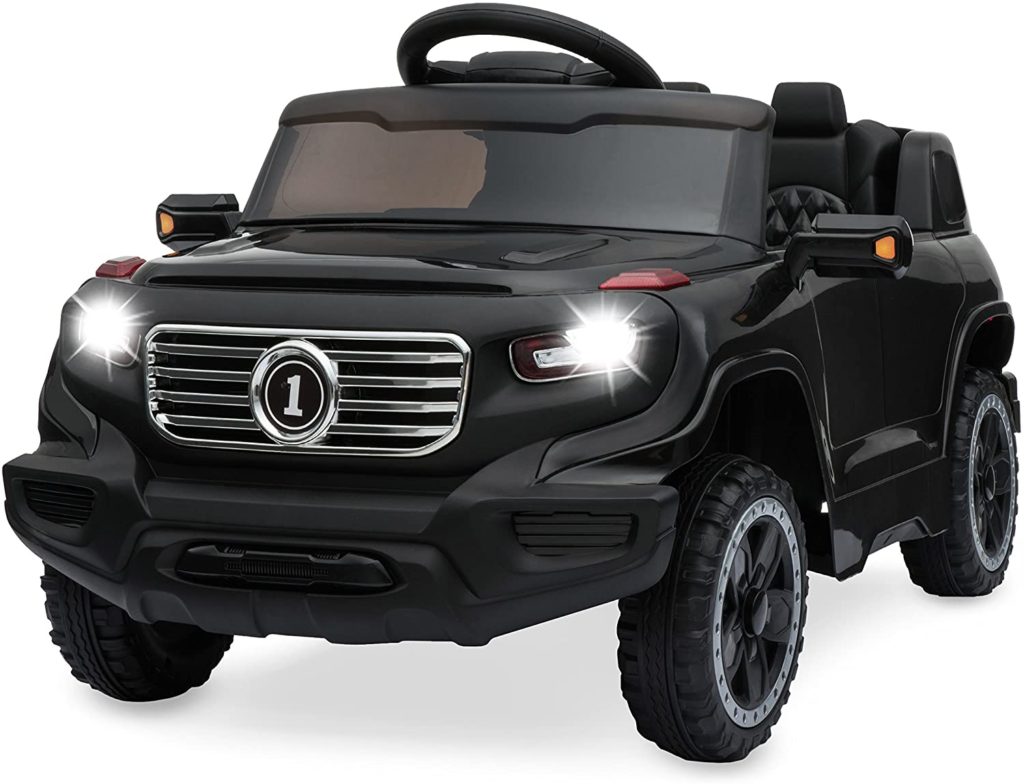 Take note of that premium white finish, a totally realistic to date that will have your neighbours turning heads, as your little one jams on down the road.
Pros
It has functional headlights, MP3 input, and a seat belt for extra safety. This electric truck is a great-looking, long-lasting kids' car with a nice moderate price tag.
You will feel pretty comfortable knowing the highest speed (two-speed choices) only goes up to 2.5 MPH. So not to worry, they can't get away from you too quickly.
In regards to weight, it can hold up to 65 lbs. You can get a good amount of use out of it as your child grows.
Although the cabin is pretty large It is just a one-seater, so be aware of that.
Cons
Also, this gets about 45 minutes of straight run time, which is good. The only downside, it takes 8 hours for it to charge up. The good thing is you can just let it charge overnight, so it's ready to go the next day.
---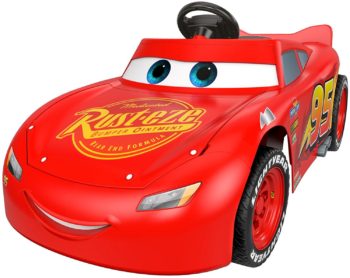 I think anything Lightning McQueen will always be a favourite amongst youngsters!
Imagine your little one, in his or her Lightning McQueer! Slick hair, leather jacket and sunglasses, come on now!
Such a cute memory to look back on! This is the kind of electric car that makes a great finishing touch, to a themed birthday party.
Let your little one ride through the finish line, with this exact Disney look-alike. We all know, nobody does it better than Disney!
Pros
The "gas" pedal is uniquely and easily positioned so that there is no overreaching or over-stretching for your child while trying to drive.
Let's talk about the seating – Very Comfortable! with a handy little safety strap that keeps them firmly in place.
What would a Lightning McQueen Car be without, flashing lightning bolts and cool headlights? Let me tell you, this design has all the flash your kiddo could ever want! It is Disney to perfection!
In addition to the bold lights it comes with great cars sounds that makes this option so much more exciting to drive!
Fun memories begin with everyone's favorite race car! This car brings Disney/Pixar's Lightning McQueen to life. Flashing lightning bolts, working headlights, great car sounds.
Ride time is about 40 minutes of continuous fun.
The tires offer great safety, believe it or not! Sometimes, the more "cute" something is the less focus can be on safety. The tires ride really smooth. However, they have some solid rubber strips that aids in traction, stability and control.
Cons
I would say the only CON about this electric car, is that it doesn't come with a parental remote control. But I know it will not take away from the joy you feel, watching your kid enjoy his/hers new toy!
---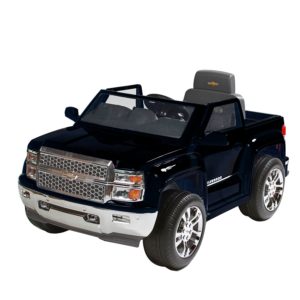 How incredibly life-like is the Chevy Silverado truck?
The details of this car are so on point that I literally did a double-take. The chrome detail is like "WOW".
This is a very sturdy and durable option.
Pros
It has an all-terrain battery installed. What does this mean? It has a little bit more "horse-power", than some of the other electric cars in its category. So, in the kiddo realm, it means it can be driven on sidewalks, grass, dirt and even on the carpet! It has a true get up and go build, to it!
It comes equipped with a battery life indicator, working windows, an MP3 connector and really clear windows. You will be impressed by the life-like dashboard.
It drives forward and reverses at up to 2.5 MPH and includes tires that have really great traction. The battery comes with a 6-month warranty.
The maximum weight it can carry around is rather generous in my opinion. It can support up to 77lbs.
The required assembly needed is less than most other cars.
Cons
The only thing I see as a small CON is that this bulky design might be a little challenging for a petite one to get up on, alone. However, with adult assistance, it should be no problem! It will take no time for them to "grow into it".
---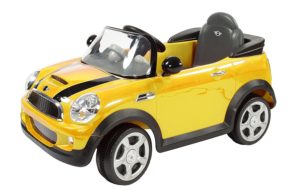 I am personally obsessed with MINI Coppers. From day one, I just thought they were the cutest cars on the planet.
This life-like version has so much shine and a twist of a classic feel; and who can resist that bright and sunny yellow colour?
Bright and sunny; these elements are enough to put the angriest little person in a good and spunky mood. The MINI Cooper 6 volt looks and feels great, not to mention it comes in at a lower price point.
I bet you are wondering if this model will keep its shiny sheen. Well, this heavy-duty-sculpted plastic has been manufactured to stay rust-free and that comes with a one-year warranty. If you just keep this car indoors, especially during rough weather, it should have no problem keeping its shine!
Pros
This guy is very easy to manoeuvre for new drivers. The swivel steering wheel is quite smooth and easy to control. The windshield is designed to stay clear. The dashboard is very attractive and life-like.
The weight it can carry is up to 77lbs and minimal assembly is needed. The battery has a 6-month warranty. So, if your sweet thing runs the battery down to nothing, you have plenty of time to get a new one.
Cons
There are steering sounds embedded in the car. However, it needs separate batteries for those to even be played. Batteries are not included, but they will require 2 AAA batteries.
---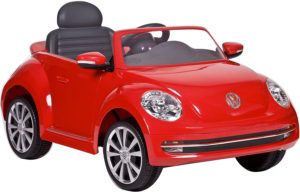 Ok, I've got one word for this design "Class Act". Well, I guess that's two words, but you feel me.
This is a sophisticated option, for your sophisticated child! That curved exterior, wide windshield, and silver VW emblem it's impressively identical to the real deal!
The other realistic features include working headlights, horns, engine sounds and one opening door. Oh, and the headlights come power packed with LED lights, for an even more realistic appeal!
Pros
The dashboard includes a handy auxiliary line to plug in an MP3 player, for your kid to play his/her favourite songs! Cruising is fast enough, but not too fast. It can be driven up to 2.5 MPH, with just enough speed to jog behind them. This 6-Volt Volkswagen Beetle operates going forward and in reverse, with heavy-duty rubber traction for smooth, but safe, stable driving. The running time is a bit more generous than other options. It can run for up to 2 hours.
Cons
This is an overnight-charge model. It takes between 8-12 hours for a full charge. So, it can drive you little nuts, if your kiddo wants to drive it NOW while it's still charging. Leaving it on overnight to charge while it's not in use is recommended. For the sounds like the horn and engine, 2AA batteries are needed and not included.
---
Conclusion
Asking your 4-year-old children whether they need help is almost insulting because they want to do EVERYTHING on their own.
Overall, they appear to be grown-ups who yearn for more freedom and enjoyable activities. As adolescents grow increasingly physically active through desire and pursuit, their motor abilities appear to be expanding at an exponential rate.
When this happens, you should give them one of the amazing ride on cars for 4 year olds included in this brief description.